James West November 4, 2010
Rising Cotton Prices Portend Higher Clothing Costs
By Julia Finch
Guardian.co.uk
November 4, 2010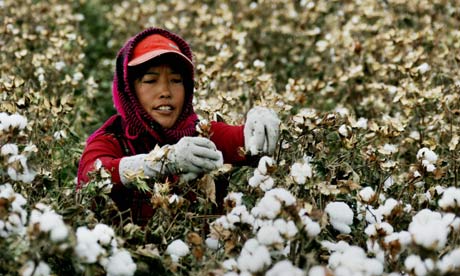 Cotton picker China Xinjiang A cotton picker in China, the world's largest cotton producer. Prices of the commodity have soared by 90% over the last year. Photograph: Str/AFP/Getty Images
Shoppers could be hit by double-digit percentage increases in the cost of clothes next year if soaring cotton prices do not go into reverse soon, fashion chain Next warned today.
The increase is higher than Next predicted only two months ago – when it said prices would rise between 5% and 8%. Now, after a further 20% jump in cotton prices in October, Next says clothing prices will go up 8% in the first quarter and increases could top 10% by the spring.
The retailer, which has more than 500 stores and 2.6 million online and catalogue shoppers, blamed "what appears to be a speculative bubble" for the looming price rises.
The price of cotton has risen by 90% in the past year, fuelled by soaring demand in China, bad crops in India, floods in Pakistan and profit-seeking speculators. It hit another record high today. "The talk of continuing physical demand, late season rain in Indian cotton fields and speculative exuberance propelled the market higher again," Commonwealth Bank of Australia said.
Recent figures from the Office of National Statistics showed the first annual increase in clothing and footwear prices for 18 years.
Next's finance director, David Keens, said it had no idea how shoppers would respond. "We are hoping it won't impact us too much, but we don't know how consumers will react to an increase in garment prices. We are being absolutely straight. If prices go up 8%, will they buy 8% less, or more than 8% less? We just don't know."
Keens was speaking as Next unveiled a trading update which showed an unexpectedly severe 3.3% decline in sales at its stores in the last three months. He said part of the fall was due to supply problems of the retailer's own making. However, sales through the catalogue and online directory operation were up by nearly 8%, as some disappointed store shoppers turned to the website to order clothes not in the shops.
Next's chief executive, Lord Wolfson, who was named a Tory working peer in May, said he was "planning very conservatively for 2011, but not [for] a disaster". The retailer said it would rather run short of stock than have too much and then have to sell it at marked-down prices.
The looming price rise – which has also been forecast by other retailers, including discount fashion chain – comes as shoppers face substantial rises elsewhere. VAT increases from 17.5% to 20% in January and energy group Scottish & Southern last week announced a 9.5% increase in gas prices from the new year, which other suppliers are expected to follow. Train fares are due to increase by up to 11% and food prices are also on the up.
The British Retail Consortium said earlier this week that food prices in October were 4.4% higher than a year earlier – the highest annual increase since June 2009 – driven by this year's rapid increase in wheat and corn prices.
Next's shares lost 2.3% to close at £21.77. However, they remain more than 20% up on the year. Analyst Katharine Wynne, at Investec, cut her full-year profit forecasts for Next to £542m and ditched her "buy" recommendation on the retailer's shares.
Midas Letter is provided as a source of information only, and is in no way to be construed as investment advice. James West, the author and publisher of the Midas Letter, is not authorized to provide investor advice, and provides this information only to readers who are interested in knowing what he is investing in and how he reaches such decisions.
Investing in emerging public companies involves a high degree of risk and investors in such companies could lose all their money. Always consult a duly accredited investment professional in your jurisdiction prior to making any investment decision.
Midas Letter occasionally accepts fees for advertising and sponsorship from public companies featured on this site. James West and/or Midas Letter may also receive compensation from companies affiliated with companies featured on this site. James West and/or Midas Letter also invests in companies on this site and so readers should view all information on this site as biased.